Welcome to my stop on the Dust Off a Book blog hop hosted by Bea of Beaquilter! The idea of this hop is that we all have quilting books on our shelves; Bea challenges us to take one down and use it! Projects would be from the book as written or inspired by the book.
I knew that February was a busy month for me so I would need a small project. My guild is making placemats for Friendship Trays as their philanthropy project this year, so something that would work for that size would be ideal. Say It With Quilts ihas a copyright date of 1997, which happens to be the same year I started quilting. I'm pretty sure the tea cup pattern is a big part of the reason I bought the book. It's a 6" finished block, so 6 teacups would make a placemat just the right size. Perfect!
The teacups went together fairly quickly. I did some wavy line quilting on the vertical, hoping that it might look like steam coming from the tea. I used scrappy binding. I hope it brightens someone's day!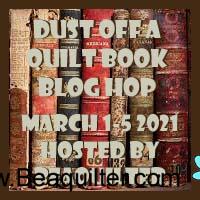 Be sure to check out all the participants in the Dust Off a Book hop:

Monday 3/1
Tuesday 3/2
Wednesday 3/3
Thursday 3/4
The Darling Dogwood -- You are here!

Friday 3/5